I Really Love My Boyfriend, but I Cheated on Him ...

Dear Dr. TRuth,

I am 21 years old and have been with my boyfriend for almost 8 months. This is my first relationship and I am truly in love with him.

I went on a trip to California with two of my guy friends from home. One of the guys had a crush on me and I used to have a huge crush on the other one. I have been friends with both of them for years so has my boyfriend so there was nothing for him to worry about.

The only problem was when I was drunk I hooked up with the kid I used to have a crush on. I told him I would never tell my boyfriend because we were just having fun but he suspected something.

I told my boyfriend the truth which really hurt him but he says he wants to work it out because he loves me and does not want to lose me. I felt so guilty before he knew and know I feel so guilty afterwards but I really do love him and want to be with him.

I think I was just scared that he was going to be the last person I am ever going to be with.

I just need some advice how to get over what I did.

Also, do you think we can work things out knowing that I deceived my "true love."

Please help...



Dear "Please"

Alcohol will do that sometimes. It just gives us permission to use the "but I was drunk" excuse.

Here's what I think...
Ok, so you are really in love for the first time and that is absolutely wonderful.

But there is a part of you that doesn't feel ready to make a full on commitment just yet. That's the part that slept with your friend.

Yes, you can work it out and probably will, but are you really ready to give up "playing the field."

While it is wonderful and joyful to have found a soulmate, at your age, as mature as you think you are, very few of us are ready to give up being an adolescent/young adult. Most of us need more time to develop, mature, find out who we are. Only then can we possibly be ready to say that we want to spend the rest of our lives with someone. As hard as this sounds, part of you just does not feel ready to give it all up just yet.

The good news is that you behaved honorably towards your boyfriend by telling him the truth. It is even better news that he forgave you.

Now, all you have to do is forgive yourself and stop feeling so guilty that you did what most people your age want to do and that is, be free.

If you want to stay in a committed relationship right now, that is fine, as long as you tell yourself you are not ready to even consider marriage. This is your first real relationship and that is great. But in no way does this mean it is your last.

In the meantime, work on your life. Finish your education, finish growing up, develop your interests, become a whole human being. Allow your boyfriend to do the same. If the relationship is still there in a couple of years, fantastic. If no, someone equally lovable will come along.

Give yourself credit for the good you have done in this situation. It is completely normal. Thanks for your letter and keep me posted.

Sincerely,
Dr. TRuth



List of Advice Letters
>>>
Another Advice Letter
>>>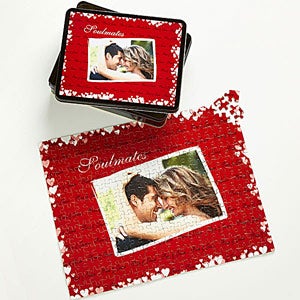 Pieces of Love Photo Puzzle & Tin