Biebalicious Bieberisms and Quotes from JB
"Everyday we wake up is another blessing. Follow your dreams and don't let anyone stop you. Never say never."
"Young people in the business have grown up and made the wrong decisions, or bad decisions, and haven't been good role models. To be someone that people look up to is important to me."
"I'm looking forward to influencing others in a positive way. My message is you can do anything if you just put your mind to it."
"I'm just a regular 16 year old kid. I make good grilled cheese and I like girls."
"It was like, Usher and Timberlake want to meet me? Are you kidding? There was no point in trying to tell anyone at school about this. It would be like telling them I was going to meet CHUCK NORRIS, and we all know that guy is untouchable. I mean, come on. It's CHUCK NORRIS. He doesn't need Twitter, he's already following you."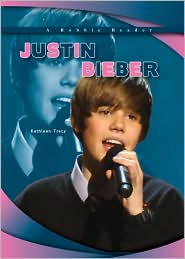 'To all the haters out there, I wish u the best. You cant bring me down. I wake up everyday grateful for the opportunity and grateful to the fans.'
"It was like I opened my eyes one day and the world was filled with beautiful girls- and I've had a hard time thinking about anything else ever since."
"If you don't dream big, there's no use of dreaming. If you don't have faith, there's nothing worth believing."
"Cheryl Cole and Katy Perry are two of the hottest girls in the world - and so normal and funny with it. If I was a few years older they are the kind of girls I'd like to date. I want a younger version of Cheryl and Katy - a mixture of the two would be hot."
"People write to me and say, 'I'm giving up, you're not talking to me.' I just write them a simple message like, 'Never give up,' you know? And it changes their life."
"I want to be a young dad. I want to be able to have done what I wanted to do - to be successful, to do a movie or whatever. But if the time is right, I definitely want to be married by 25."